<!center><!img src="hya_logo2.jpg" alt="Hana Yori Anime" width="400" height="101"><!/center>
a subdivision of Anime West
<!center><!img src="gurusml.jpg" alt="Mahoujin Guru Guru" width="288" height=216"><!/center>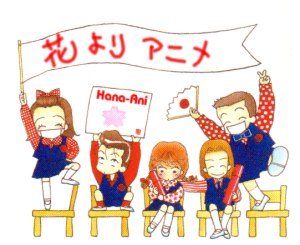 Welcome to our homepage. If you wanna e-mail us, you can do it at: hanayorianime@usa.net.

Our specialty is shoujo (girls') anime and anything else that's cute. Oh, we also like stuff with beautiful men.

Our debut title was Mahoujin Guru Guru movie (shounen, but cute). It was coupled with Team Abcb's Akachan to Boku 1-2 (definitely shoujo), which all of us worked on in some way or another. For a list of other titles we've finished or are currently working on, please take a look at our Projects page.

To trade with us, please e-mail us. Our library? It's in the AWest page. We can trade either in SVHS or VHS.
- Announcements -
Past News
You are the th person to visit us since 9.07.98.