main - about us - news - projects - summary - anime guys ratings - links
Hana Yori Dango movie
Boys Before Flowers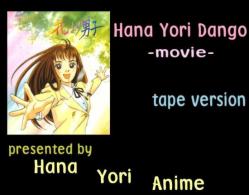 30 min movie
Video Cassette only

Based on the characters of the manga by KAMIO Yoko (Margaret Comics, Shueisha).
Currently there are 23 volumes. One illustration book; One anime (TV series) book


Story:
Makino Tsukushi is a dance student living in NY, who hopes to become a broadway star someday. Domyouji Tsukasa is a musical star, along with Sanjou Sakurako. Hanazawa Rui is a composer, and Toudoh Shizuka is a ballet primadonna.

The story is unrelated to the TV series or the manga. The characters pretty much remain the same, although Rui seems to be a lot nicer from the beginning.

Emi-chan's Hana Yori Dango Page has a summary of the movie and the other live-action movie that Team Abcb is subtitling.


Comments:
Individual comments coming soon.. maybe.