a subdivision of Anime West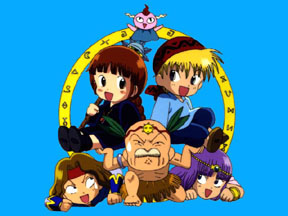 ---
Welcome to our homepage. If you wanna e-mail us, you can do it at: hanayorianime@usa.net.

Our specialty is shoujo (girls') anime and anything else that's cute. Oh, we also like stuff with beautiful men.

Our debut title was Mahoujin Guru Guru movie (shounen, but cute). It was coupled with Team Abcb's Akachan to Boku 1-2 (definitely shoujo), which all of us worked on in some way or another. For a list of other titles we've finished or are currently working on, please take a look at our Projects page.

To trade with us, please e-mail us. We're only trading titles we've worked on ourselves (if you want other stuff in the AWest library, please e-mail the AWest contact person). We can trade either in SVHS or VHS.
- Announcements -
12/9/98
We're slowly working on Tenshi Nanka.. Sana-chan is fixing the script, Kaoru-chan is fixing the subtitle appearance, Yamabuki is searching her HD for the ED song, and The Tech Guy is floating.
Added more summaries.
Coming soon to the anime guy page: Nuriko, Tasuki (boy, FY fans are vocal!), Naozumi (KodoCha), Enishi (RuroKen).
12/1/98
We're back! And it's raining!
Mitsukake sent us the prelim timing of Tenshi Nanka ja Nai movie. We'll work on this in-between papers, finals, and anime club showings.
Since finals are approaching, things will slow down at Hana Yori Anime. But now that Yamabuki discovered a wonderful option called "Wav-Timing & Translating at the Same Time," projects will probably go faster.. after finals (12/18/98).
Eva-00 offered to prelim time Anpan-man. Yay! But only after he finishes the AWest secret project. dum-dum-dum....
11/29/98
Hope you're all having a wonderful Thanksgiving Day weekend. We'll begin working on our projects as soon as we get back.. *gasp* finals are coming up in 3 weeks!
Hana Yori Dango movie is done! Please e-mail to trade. Note: It's only 30 mins. Masters run off of commercially available rental tapes (We don't have the LD).
Speaking of which.. have any of you read volume 21 of Hana Yori Dango? "It's so saaaad!" -- Kaoru-chan and Yamabuki.
Added the project summary page. The graphics in there are images taken from our opening(s) and translation note(s). We'll continue to add more summaries later.
Also updated the projects page and included some graphics.
Past News
You are the th person to visit us since 9.07.98.