<!center><!img src="hyatitle1.jpg" alt="Hana Yori Anime" width="396" height="134"><!/center>
a subdivision of Anime West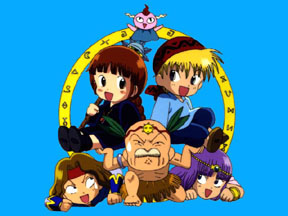 Welcome to our homepage. If you wanna e-mail us, you can do it at: hanayorianime@usa.net.

Our specialty is shoujo (girls') anime and anything else that's cute. Oh, we also like stuff with beautiful men.

Our debut title was Mahoujin Guru Guru movie (shounen, but cute). It was coupled with Team Abcb's Akachan to Boku 1-2 (definitely shoujo), which all of us worked on in some way or another. For a list of other titles we've finished or are currently working on, please take a look at our Projects page.

To trade with us, please e-mail us. Our library? It's in the AWest page. We can trade either in SVHS or VHS.
- Announcements -
8/6/99
We've been getting a lot of e-mail about GuruGuru, especially from people who saw it at Otakon. Since it looks like people are having a hard time getting a copy, we've decided to try mini-distribution. Details are on the get-daze! page.
Have you seen the Fangirl's Arsenal page? It was featured on Anipike's Last Exit Before Toll column. Clever. Hilarious. Cute. And oh-so-real!
But then again, we were lusting after various cosplayers. So... we will be adding a Guide To Beautiful Cosplayers section in the anime guys page. Stay tuned!
8/1/99
Ack! Long time no update. Well, like we said in the AWest page, we've been busy with AX. We sewed 7 costumes this year. We lost so much sleep... but they were beautiful... Was it worth it? Of course
We wanted to write up an AX99 review... of course rating the men & boys who were there. Maybe we'll find the time to write one up.
Akachan to Boku is back on track. We have 2 people wav-timing #3-8. Thanks for your help, Mitsukake-sensei & "girlie who needs to pick a nickname" *laugh*
We know we have to update the anime guys page... We have much more to add. And newer opinions & comments...
Okay, back to work on Gokinjo...
6/12/99
Added Kashou no Tsuki and Mahoujin Guru Guru TV in the summary page.
We sent off our tapes to Otakon & AnimeExpo programming committees! If we don't finish Gokinjo Monogatari fast enough, Otakon might be the Tenshi Nanka ja Nai premiere !>
For AX, we plan on having a "room showing" like Ventura Anime & Team Abcb. Hopefully we'll have Kashou, Gokinjo, Anpan-man done by then.
Folks across the Atlantic: Friends of Sana should be getting GuruGuru 1-4 real soon. Drop by their club showings!
Past News
You are the th person to visit us since 9.07.98.